The WOMEN* & NONBINARY Wheel Building Class is identical to the co-ed class except that it is taught by women/transfolks/femme mechanics in an intentional environment meant to give space to people who want to learn bike mechanics and are not cismen.  (Cis- meaning that you still identify with the gender you were given at birth).
*The Women and Nonbinary classes are inclusive of transwomen as well as non-binary, gender fluid, gender non-conforming, two-spirit, and intersex people, and anyone who is not a cisman.
Want to learn how to build your own wheel? The Wheelbuilding class takes you step by step through the process.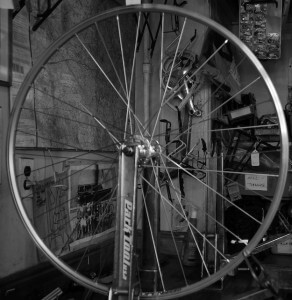 Each class is two hours long and meets once per week for four weeks.
Classes are part lecture and part hands-on exercises
Wear clothes that you don't mind getting grease on.
Mandatory Prerequisite: Basic Knowledge of Wheel Truing
Topics covered:
Week 1 – Parts ordering and basic theory
Week 2 – NO CLASS to allow time for parts to arrive
Week 3 – Wheel lacing
Week 4 – Wheel tensioning/truing
Week 5 – Final tensioning and truing
A few things to know about our classes:
Wear clothes that you don't mind getting grease on.
If you need to cancel your enrollment you must do so at least 2 weeks before the class starts for a refund. After that, no refund will be issued.
There are NO make-ups for the wheel building classes. Please check the dates carefully to make sure you can attend every class. We do not teach wheel building during our normal business hours.
Prior wheeling truing experience is mandatory before taking this series.
Upcoming Women* & Nonbinarey Wheelbuilding Classes