The Women* and Nonbinary classes are identical to the co-ed classes except that they are taught by women/transfolks/femme mechanics in an intentional environment meant to give space to people who want to learn bike mechanics and are not cismen.  (Cis- meaning that you still identify with the gender you were given at birth).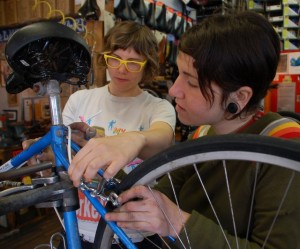 *The Women and Nonbinary classes are inclusive of transwomen as well as non-binary, gender fluid, gender non-conforming, two-spirit, and intersex people, and anyone who is not a cisman.
The BASIC CLASS is intended for those with little or no mechanical experience. Each class lasts two hours and meets once per week for 6 weeks. The class is divided into lecture and hands-on learning where the student works on their own bicycle. The hands-on exercises range from:
Class 1 – Fixing a flat;  Class 2 – Front hub adjustment;  Class 3 – Wheel Truing;  Class 4 – Brake Adjustment;  Class 5 – Sizing and replacing a chain;  Class 6 – Rear derailleur adjustment
A few things to know about our classes:
Remember to bring your bike.
Wear clothes that you don't mind getting grease on.
If you need to cancel your enrollment you must do so at least 2 weeks before the class starts for a refund. After that, no refund will be issued.
Upcoming Women* & Nonbinary Classes