The Women and Trans basic and advanced classes are identical to the co-ed classes except that they are taught by women in an intentional environment meant to empower women and folks who have not benefited from male privilege.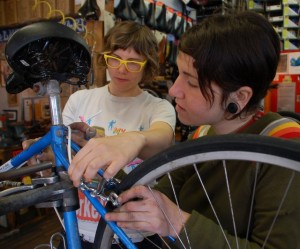 The BASIC CLASS is intended for those with little or no mechanical experience. Each class lasts two hours and meets once per week for 6 weeks. The class is divided into lecture and hands-on learning where the student works on their own bicycle. The hands-on exercises range from:
Class 1 – Fixing a flat;  Class 2 – Front hub adjustment;  Class 3 – Wheel Truing;  Class 4 – Brake Adjustment;  Class 5 – Sizing and replacing a chain;  Class 6 – Rear derailleur adjustment
The ADVANCED CLASS is intended for students who have completed Broadway's Basic maintenance class. Each class is two hours long and meets once per week for four weeks. Classes are part lecture and part hands-on exercises and students work on their own bike. Prerequisite: Broadway's Basic class
Class 1 – Rear hub overhaul;  Class 2 – Wheel truing;  Class 3 – Headset overhaul;  Class 4 – Front derailleur cable replacement and adjustment
A few things to know about our classes:
Remember to bring your bike
Wear clothes that you don't mind getting grease on.
If you need to cancel your enrollment you must do so at least 2 weeks before the class starts for a refund. After that, no refund will be issued.
Upcoming Women & Trans Classes