Posted on March 7th, 2013 by Broadway Bicycle School
Door 3 had a brief winter break and now we are pleased to announce the first show of the 2013 Season…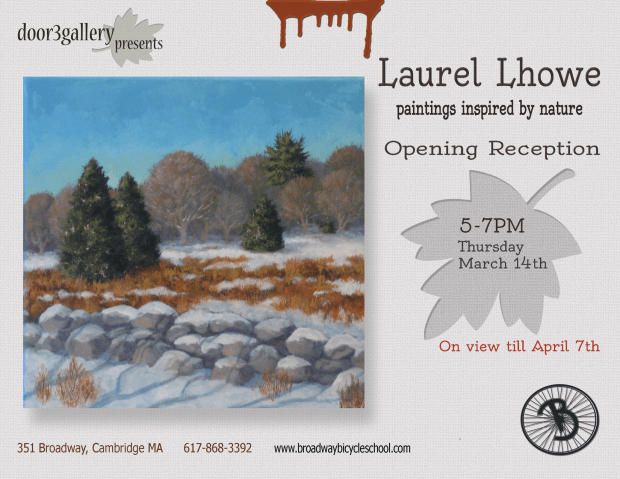 Laurel Lhowe – Paintings inspired by Nature
Although Laurel Cook Lhowe has always painted, her career as a medical illustrator took precedence until about 10 years ago. She has illustrated many orthopedic and ophthalmic text books and completed hundreds of drawings for the American Heritage Dictionary series. Her paintings are in many private homes scattered around the USA and in the corporate collections of Berkshire Partners, Watertown Savings Bank and Cambridge Savings Bank.
Laurel looks for inspiration from the natural world, often painting variations of scenes viewed on walks with her dog, Xena. The paintings are executed in oil and acrylic in her home studio often using sketches completed on site and snap shots. Laurel, her husband, David and son, Brendan are long time Cambridge residents. As a bike enthusiast she is honored that her  work is on view at the Door3Gallery.
Please do stop by for the opening party or mosey in during regular shop hours. Her work will be on view till April 7th!
Opening Reception
Thursday March 14th
5-7PM
(delicious treats provided)
Here are some photos of the show:
[nggallery id=26]
Read more news from Door 3 Gallery, Exhibitions.