Posted on May 23rd, 2012 by Broadway Bicycle School
Thursday, June 7th
7-9pm
Door 3 Gallery is proud to host this month's multi-talented artist – David Michael Curry.
He will be showing photographs from his series Observations and Little Histories.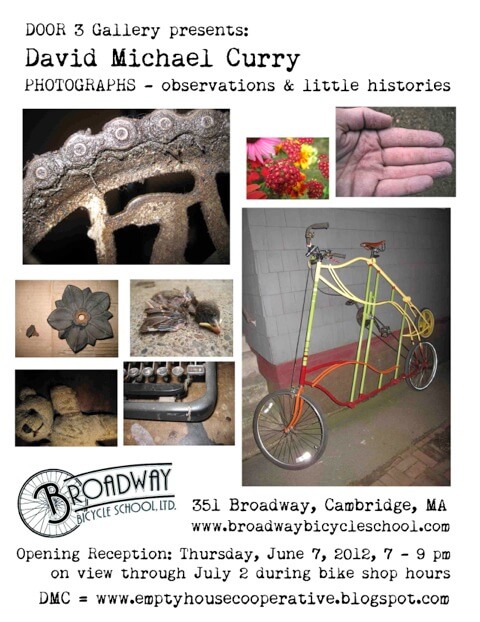 "Looking and listening is as much a compulsion as it is a lifestyle choice for me.
In art school, I specialized in billiards and beer, skateboards and weird music, but I also learned about seeing from photographer Abelardo Morell, filmmakers Saul Levine and Luther Price, and my Dad Justin, a lifelong painter and educator in art.
In my photography, I look for the history of things, up close.
I see beauty in decay and have the ADHD superpower of noticing the little things and finding a personal poetry about them, like an observational osmosis translated to an internal collage of tangents, fragments, and stories.
Sometimes I am lucky enough to travel the world to play music, and I always bring my camera.
I also love bicycles. PLEASE RIDE ONE!
These photographs are printed small, especially for the Door 3 Gallery's miniature scale."
For more of David Michael Curry's work and music check out his website:
www.emptyhousecooperative.blogspot.com
David is a talented musician; playing viola in rock,  "alt-country"  & improvisational groups, including Empty House Cooperative, Animal Hospital Ensemble, Thalia Zedek, Willard Grant Conspiracy, Drew O'Doherty, and lots of others…
Empty House Cooperative is improvised music with DMC and friends, most often including Jonah Sacks, Thalia Zedek, Chris Brokaw, and others.
That's not all folks… he also rides with SCUL and builds his own choppers…. and knows a thing or two about cigars!
Come out, meet and greet, you won't be disappointed!
The usual dainties will be served.
If you can't make the party – you can redeem yourself by visiting throughout the month of June to view the show in Broadway's very own Door 3 Gallery – open during normal shop hours! Show is up till July 2nd!
Here's some photos from the opening!
[nggallery id=12]
Read more news from Door 3 Gallery.