Posted on July 12th, 2011 by Broadway Bicycle School
THE ART OF PALMISTRY
Gallery Opening and Reception for Brittany Gravely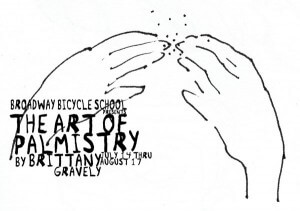 DATE: Thursday, July 14, 2011
TIME: 7:00pm – 9:00pm
LOCATION: Door 3 Gallery Inside The Broadway Bicycle School
351 Broadway Cambridge, MA
MORE:
Door 3 Gallery presents a mystical evening with multi-media artist, experimental film maker Brittany Gravely.
Artistically Brittany Gravely has focused primarily on 16mm film for the past several years, but also creates works in sound, video, installation, and many media of the second dimension. She graduated in 2001 with an MFA from the School of the Museum of Fine Arts in Boston. Her films, for which she is the writer, director, editor and sound designer include 2001's Introduction To Living In A Closed System (New York Film Festival, Images Festival, MFA Boston, videoex, New York Underground…) and Blood of the Earthworm of 2006 (T.I.E. Cinema, Black Maria, New York Underground, Antimatter, Chicago Underground…). In 2008, she and Jennifer Pipp formed Architecture of the Sun to accompany live music while manipulating dual 16mm projections and have performed in clubs and galleries in Brooklyn, Boston and Providence.
Certified in Palmistry – Brittany will provide readings throughout the evening. So come out and enjoy the usual dainties and have your future demystified Thursday night!
This show will be on display through August 17th, open to the public during normal business hours at the Broadway Bicycle School.
Read more news from Door 3 Gallery.