Posted on May 9th, 2011 by Broadway Bicycle School
An Exhibition of New Scrap-Metal Sculpture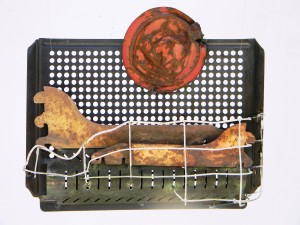 DATE: Thursday 5/12/11
TIME: 7:00pm – 9:00pm
LOCATION: Door 3 Gallery Inside The Broadway Bicycle School
351 Broadway Cambridge, MA
MORE:
Please join us for an opening reception of Madeleine Lord's new sculpture show, Bikescapes, at the Door 3 Gallery.  Lord's playful relief sculptures use found scrap materials to examine the intersection of the natural and the constructed.  The patina of age, rust, and discarded steel-bent-by-chance are re-framed into landscapes and portraits that utilize the character of the elemental components to create subtle and personal interpretations of a biker's environment.
The Door 3 Gallery offers the most intimate viewing experience possible.  The usual dainties will be served during the opening reception on Thursday, May 12th.  This show will be on display through June 12th, open to the public during normal business hours at the Broadway Bicycle School.
[nggallery id=6]
Read more news from Door 3 Gallery, News.