Posted on May 25th, 2013 by Broadway Bicycle School
A big shout out and thank you to Constance Winters – the writer/cyclist behind the fantastic blog "Lovely Bicycle" for her review of one of our bikes!
Here's part of her review from  Bicycle.com :
Civia's Twin City strikes a balance between good looks and high functionality.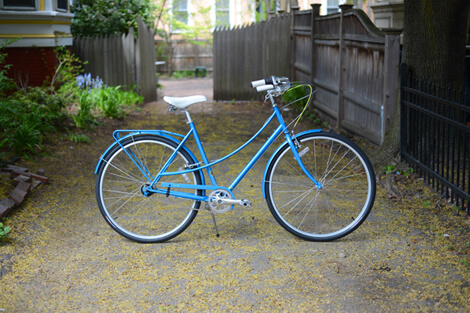 "It's an outright attractive bike, equipped with all the commuter basics, and is still affordable for many cyclists. …The Twin Cities impressed me as a well thought-through city bike. The stand-over of the twin "loop" frame was just the right height for hopping on and off. Thanks to the low bottom bracket and relaxed seat-tube angle, I could get full leg extension while pedaling and still put a toe down in traffic without dismounting—something many commuters find convenient.

The Twin City is available with several different drivetrain options. The model I tried was equipped with the new Shimano Nexus 5-speed internally geared hub. When choosing a hub instead of a derailleur, I find that with more than 5 speeds the bike starts to lose efficiency. So I am excited to see another option for this gearing enter the market (previously, only Sturmey Archer offered it). In the course of my test ride the Shimano Nexus performed excellently, with the same level of efficiency I've come to expect from a 5-speed hub. It provides an ideal range for a city bike, as far as I'm concerned, with the low-maintenance benefits of hub gearing.

All in all, the Twin City is a fine bike. I expect to see more of them pop up around town."
–Constance Winters
We couldn't agree more – the Civia Twin City step thru makes a great fit for the local city rider! If you like what you see and want to take it for a spin — come on by!
Read more news from News, Product Reviews.