Posted on June 23rd, 2015 by Broadway Bicycle School
One of our regular customers, Dien, just picked up his new custom Soma! Dien built this from the ground up on teaching time here at Broadway.  Earlier this week we asked Dien a few questions about his new ride…
BBS: Tell us about your new bike!
Dien: It's a Soma Smoothie frame with a matching Soma steel fork. It has Ultegra 11-speed drivetrain and brakes. Stem and seat post are both matching Thomson parts. It's a silly reason but I picked Thomson because one of my favorite philosophers is named Judy Thomson. The headset is Chris King with Salsa bar. The seat is the canvas Brooks Cambium and I taped the handle bar with matching tape. It has Continental 4Season tires for New England roads.
BBS: How does it ride?
Dien: It rides incredibly well! The whole thing weighs just south of 21 lbs but is sturdy and responsive. The bike really wants you to go faster. I love it. I ride it mostly on nice days for long rides.
BBS: How was your experience building it here?
Dien: The whole experience has been incredibly fun and rewarding. This is my first new bike in 26 years and I wanted to learn how to build one as well.  People keep coming up to me and tell me it's a work of art. I just love the way it fits and I know exactly how to tweak it and maintain it.
BBS: Thanks Dien – enjoy riding it!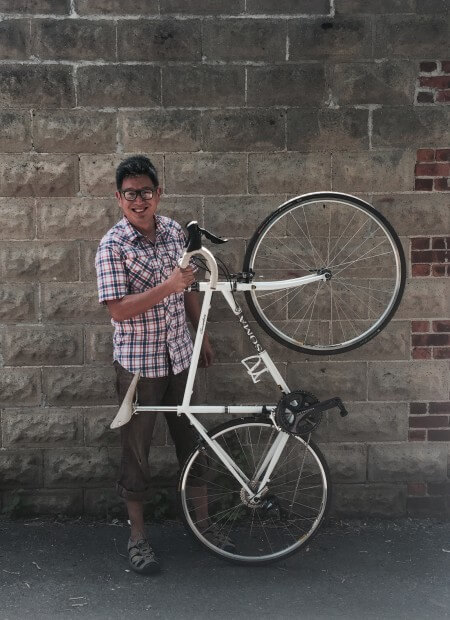 Read more news from News.