Posted on August 22nd, 2012 by Broadway Bicycle School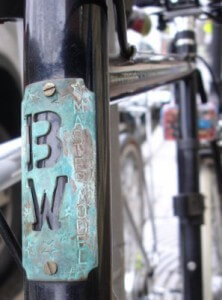 "Can a local shop and a local framebuilder build a durable, classic, comfortable, well-made commuter bike and make it available, ready-to-ride, for under $1000?
The Broadway Master Model was our answer. Sadly when the final "Broadway Master Model" sold last year- it marked the end of an era. It was our dream commuter bike. It had a 4130 cro-moly steel frame hand-built in Holliston, Massachusetts by local framebuilder Mike Flanigan of Alternative Needs Transportation Bikes – "Not sport…transport" . Add to that a threadless front end, a Sachs 7-speed internally geared hub, and many other upgraded parts, and you got a truly unique and amazing bicycle.
These were very special bikes with handcrafted charm. Just look at that custom headbadge!
 Mike Flanigan is an amazing teacher and offers one on one frame building intensives. If you want to learn frame building – learn from one of the best!
Here's a video highlighting ANT Bike Mike at work.

Credits:
Original Score by Roger Miller
Directing/Editing/Photography by Zachary Lee
But all is not lost – scoop up this gem while you can – direct from the source

Read more news from News.