Posted on April 16th, 2014 by Broadway Bicycle School
Everyone here at the shop has a special bike..sometimes more than one or three.  Today we meet longtime Broadway fixture Joe and his new All-City.
Why the All-City?  My plan was to build this as a commuter bike, so it had to be steel.  OK, all my bikes are steel.  Also I wanted horizontal drop outs and I didn't want a wicked expensive one so my choices came down to the All-City Space Horse or the  Surly Crosscheck.  The All-City was closer in geometry to my old road bike and it comes already coated internally with their ED coating so it's ready to ride year round.  I like the way it feels-it's comfortable, predictable-its just a damn nice bike!
Do you mostly ride it for commuting?  I did want it to be a bike I could ride long distances, that I could do other stuff with, and it is comfortable to ride long distances but so far I have mostly just used it for commuting.
No derailleurs on this huh- why did you decide to go with an internally geared hub?  It just makes a lot of sense to use internal gears on a commuter. I find that you do less maintenance, parts wear out less quickly and it's convenient to downshift at a stop.  I have the Shimano Alfine 11 speed.  It has really wide gearing plus I put a big cog on it so it is geared low so hills are no problem.  The difference between high and low gear is over 400% so you really have a great range on it.
You also use generator lights not battery powered lights why?  They are always there and always ready to go.  I don't have to worry about getting them stolen and I don't have to worry about charging batteries or batteries dying.  Plus they are really bright.  It gives me enough light to actually see the road which is important when I get out of the city.   My lights now are so bright I sometimes think there is a car behind me lighting up the road.
I've never seen an integrated brake shift lever on a drop bar used with an internal hub- that's insane!   Yes, Shimano only has upright bar shifters for the Alfine. These are made by a company called Versa.
You were also an early switch over to the new Cambium saddle how do you like it?  I really like it.  It is comfortable and I don't really notice it, it just fades away. Plus I don't need to worry about covering it if it is raining.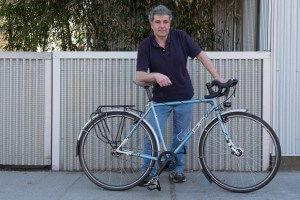 Joe on his customized All-City Spacehorse
Read more news from News.