Posted on August 4th, 2014 by Broadway Bicycle School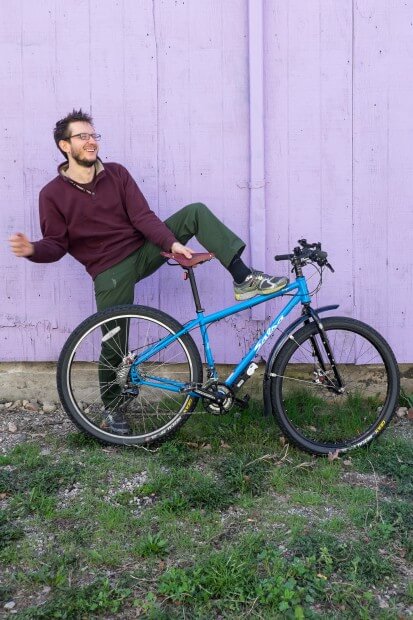 Meet Tommy's bike!  Tommy is a new mechanic here at Broadway.  Since he has started in April he has purchased about 6 new bikes- insane!
Today we meet his usual daily rider.
Hi Tommy- What kind of bike do you ride?
I ride the Salsa Fargo.  It's a bit of an unusual bike-  It has a 29er wheel set on a road bike frame.  It's designed for touring on places where there are no roads.
You updated it recently with some new bars I heard?  Yeah I put on drop bars with bar end shifters.  It cut a solid 10 minutes off my commute.
What do you like about your Salsa?  Probably the best part about it is its versatility.  I mean I ride it every day about 15 miles for my commute and this past weekend I went mountain biking with it.
Looks like you could fit really fat tires on it.  Yeah I have 2.1s on it now but they definitely could be bigger.  Actually in the front I have the enabler fork that is spaced at 135mm to fit in a rear wheel with a gigantic fat bike tire.
Now most people here at the shop ride skinny tire bikes, how come you ride a bike with relatively fat tires on your commute?  It's way more comfortable!
Read more news from News.