Posted on May 5th, 2014 by Broadway Bicycle School
The Pancake breakfast is next Tuesday May 13th from 7:30-9:30am!  Come down to Broadway for the best pancakes that you can get for free at a bike shop!  We will also be selling raffle tickets for $5 each or 5 for $20 to benefit Bikes not Bombs! All proceeds will go to the campaign of our mechanic Kate Mills who's team, TEAM SHARK!, will be riding 80 miles for the Bikes Not Bombs Bike-A-Thon ride. Prizes include: a Bailey Works Bag, a Gotham Light, Cappow bicycling caps, locks and more!  Tickets will go on sale at the breakfast and winners will be chosen on Friday 5/16. Thank you again to Bailey Works and Fortified Lights for their generous contributions.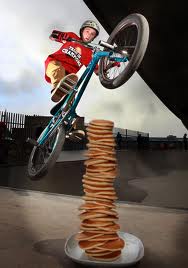 Read more news from News.