Posted on June 14th, 2012 by Broadway Bicycle School
Broadway Bicycle School and Igleheart Frames Racing Team
is Proud to sponsor a

FREE Beginner Road Race Clinic.
Date: SUNDAY JUNE 24 2012
Time: 7:15am – 9:30am
Wells Ave. Newton, MA
Are you interested in trying road racing?  Don't know where to start?  The Broadway Bicycle School/Igleheart Frames Racing Team wants to help you learn the basics of road racing.  Riders will receive instruction in racing safety and technique and then have the opportunity to try out their new skills in a beginner-only race.  Woman and junior racers will have a separate race to compete in.
Riders will receive:
 Water, coffee and Snacks
 30 minutes of oral instruction on the basics of group riding and road race safety.
30 minutes of group riding instruction with expert racers.
The opportunity to race in a Beginner-only race
Instruction DURING the beginner's race at Wells Ave.
Notes:
There is no cost for the clinic.
Entry to the beginner's race at Wells costs $20 ($10 for one day license + $10 racefee)
Juniors' race fees will be paid by Mike Keough (Bay Hill Capital).  Thanks Mike!
 All riders must have a helmet, a working road bicycle with drop handlebars (no aerobars or clip ons) and a jersey with sleeves (per USAC regulation)
 Minors must  bring a USA Cycling release form signed by a parent or guardian (http://www.usacycling.org/forms/rider_release.pdf)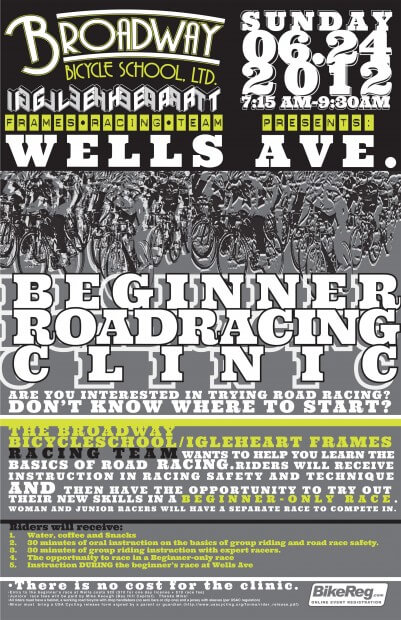 Read more news from News.