Posted on March 21st, 2014 by Broadway Bicycle School
We just got in the new Surly Straggler in stock!  The Straggler is basically the Crosscheck but with 3 significant changes.  First, it comes with STI shifters instead of the bar end shifters on the crosscheck.  Lots of people love the bar-end shifters but for me the STI levers are worth every penny- shifting is so easy.  Second, the Straggler has disc brakes instead of the standard canti's on the Crosscheck.  Thirdly, and most importantly, the Straggler comes in black but it also comes in the sparkly Glitter Dreams shown below (the photo does not do this color justice, it is really, really cool). Right now we have one in 52cm, but can get any size.   Come down and check it out!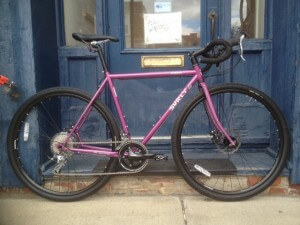 Read more news from News.