Posted on April 13th, 2013 by Broadway Bicycle School
It's in the air – Monday April 15th is the  running of the Boston Marathon and it's not just for runners.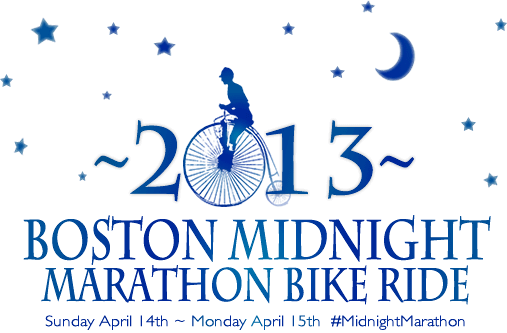 Started in 2009 by Greg Hum, a recent Boston University graduate who came up with "a totally ad-hoc, spur-of-the-moment idea,"  the Midnight Marathon was born and is quickly becoming a tradition among cyclists. Ridership further blossomed with interest from the Boston SOS –  alternately known as the Societies of Spontaneity or a Society of Shenanigans (the group responsible for the annual no-pants subway ride on the T). Last year over 700 cyclists boarded the last train to Worcester from South Station to partake in the ride…
Perhaps that is why this year in a joint effort to keep the tradition going, the MBTA has opted to run a dedicated commuter train for these fun loving folks! Ticket sales were capped at 700 and cost double the usual price – but the train is just for bikers with a Midnight Marathon Ticket and travels nonstop direct to Southborough ( a short ride to  the starting line). Tickets went on sale April 8th and quickly sold out – if you are interested in participating – you'll have to find an alternative mode of transport to the starting line. I suggest riding your bike 🙂 Or find a convenient spot to join the pack closer to the city.
If you are a rider please make sure to stock up on snacks and water. Convenience stores may be scarce in the wee hours. Also make sure to carry a spare tube or patch kit and portable pump in case you get stranded with a flat. Ride in a group and stay safe – Streets may be empty but they are not yet closed to motor vehicles! Also watch out for railroad tracks. They are notorious for causing wipeouts, especially if it is raining. Slow down and cross at a 90 degree angle to avoid getting your tire caught in the rails.
This year the Midnight Marathon runs from Sunday April 14th to Monday morning before the official route is closed.
The Midnight Marathon Express leaves South Station at 10pm
People will arrive at the Starting Line between 10:50pm and 11:30pm.
Riders generally complete the course in 2 to 5 hours, depending on your type of bike, fitness level, etc. Most will reach the finish line between 1:30am and 2:30am.
Also plan how you're getting home since the T doesn't start operation till around 5am.
Here's the official map.
The historic course starts on Main Street in the rural New England town of Hopkinton and traverses Ashland, Framingham, Natick, Wellesley and Newton Lower Falls. Then follows Commonwealth Avenue through Chestnut Hill, Cleveland Circle and Kenmore Square to end up at Copley Square near the John Hancock Tower. It is a slight downhill track for most of the 26.2 miles (except for Heartbreak hill at mile 20-21!).
Have fun!
Read more news from News.