Posted on October 2nd, 2012 by Broadway Bicycle School
Now that the sun sets a bit earlier – it's a great time to think about riding with lights so you can see and be seen by other traffic! It just makes sense and we are very pleased to carry a bunch of great lights to meet the needs of a wide variety of cyclists. Whether you commute each evening or find yourself on the Minuteman trail at 9pm – we've got a light for you!
Most lights now a days are rated in Lumens. The lumen can be thought of casually as a measure of the total "amount" of visible light emitted from some source. The higher the rating – the brighter the light. Here's a spectrum of the lights we offer.
FRONT LIGHTS
Lezyne Femto Drive : 15 Lumens,  A front safety light for $15.00
Knog Blinder 4 : 80 Lumens, visible up to 800 meters.
Serfas Thunderbolt : 90 Lumens, An awesome NEW light that we are highly recommending for the daily commuter!
Light & Motion Urban Series — These are all very powerful lights that will show you where you are going, giving you time to react to the potholes and paraphernalia on the path ahead.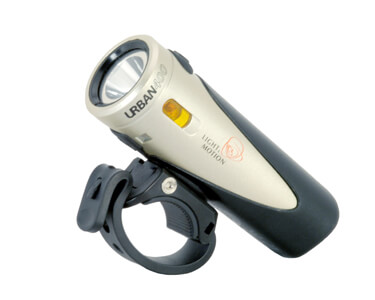 Urban 200: 200 Lumens. Wow bright is now affordable!
Urban 400 : 400 Lumens.  A more expensive light – USB rechargeable that can last on high power for 1.5 hours.
Urban 550 : 550 Lumens. The light to take at night in the woods. Anything stronger would need a separate battery pack!
REAR LIGHTS
Lezyne Femto Drive Rear : 7 lumens. sleek and safe – make this a great affordable choice. $15.00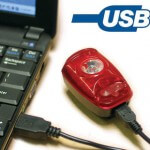 Light & Motion Vis 180 Micro:  25 Lumens. Rechargeable Tail Light with high visibility from both side and rear.
Light & Motion Vis 180: 35 lumens.
Knog Blinder 4 rear : 44 Lumens. Very bright USB rechargeable rear light.
Cygolite HotShot : 2 Watts of light – another great USB rechargeable rear light, can clip to clothing or your bag.
FRONT & REAR SETS
Planet Bike Combo – $35 – a basic battery powered set for safety, be seen by other vehicles/pedestrians.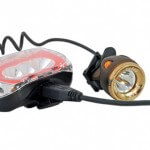 Serfas USB Combo – $40 – a bright basic rechargeable set
Light & Motion Vis 360 – The Ultimate light set!  Super Bright – mounts to your helmet!
Read more news from News.