Posted on July 18th, 2012 by Broadway Bicycle School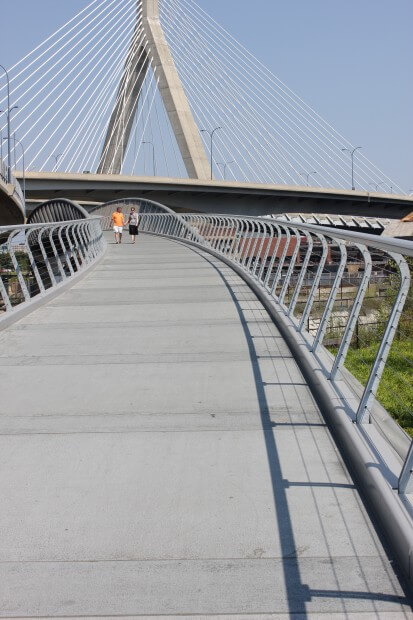 Last Friday marked the official opening of the largest pedestrian and bicyclist bridge ever built in Boston!
Reclaiming Boston's "bermuda triangle", the 690-foot bridge curves under the Zakim Bridge and over the MBTA railway connecting Cambridge to Charlestown with easy access to the North End along a controlled walkway.
The bridge, built by the Massa­chusetts Department of Transportation and the Department of Conservation and Recreation, is the first of three ­pedestrian and bicyclist bridges expected to open along the Charles River between the ­Museum of Science and the Charles River Locks. That stretch has long been known as the "lost half-mile," because it was home to rail yards, potato sheds, and jail parking lots, making it largely inaccessible for recreational uses.
If the other bridges are completed as planned, they will connect three parks built by the Big Dig: Cambridge's North Point Park, Charlestown's Paul Revere Park, and Boston's Nashua Street Park, forming their own version of an emerald necklace. Bicyclists, joggers, and river walkers will be able to move almost seamlessly ­between the rest of the river, the Rose Fitzgerald Kennedy Greenway, and Boston Harbor.
I was curious about the route and decided to check it out for myself….
I found various ways to get to the entry points – not the most welcoming… Mcgrath highway in front of the Museum of Science, Rutherford Ave from the parking lot of Bunker Hill Community College and also from the main entrance of Paul Revere Park across from City Square in Charlestown. The path is well situated between public transit points and major tourist attractions (Old Ironside, Museum of Science and the Garden). It makes for a pleasant afternoon with some lovely views of the city. There is access between Charlestown and the North End via a gated pedestrian path. It's not open 24 hours, but you can fit your bike through the maze of locks. It's a bit friendlier than the Charlestown Bridge.
Looking for a day trip? Take the T to North Station – get a hubway bike and enjoy an afternoon exploring what used to be a very difficult area to navigate! Also great for those attending Bunker Hill — say bye bye Gilmore Bridge!
Since I couldn't find a decent map online – I made one. Enjoy!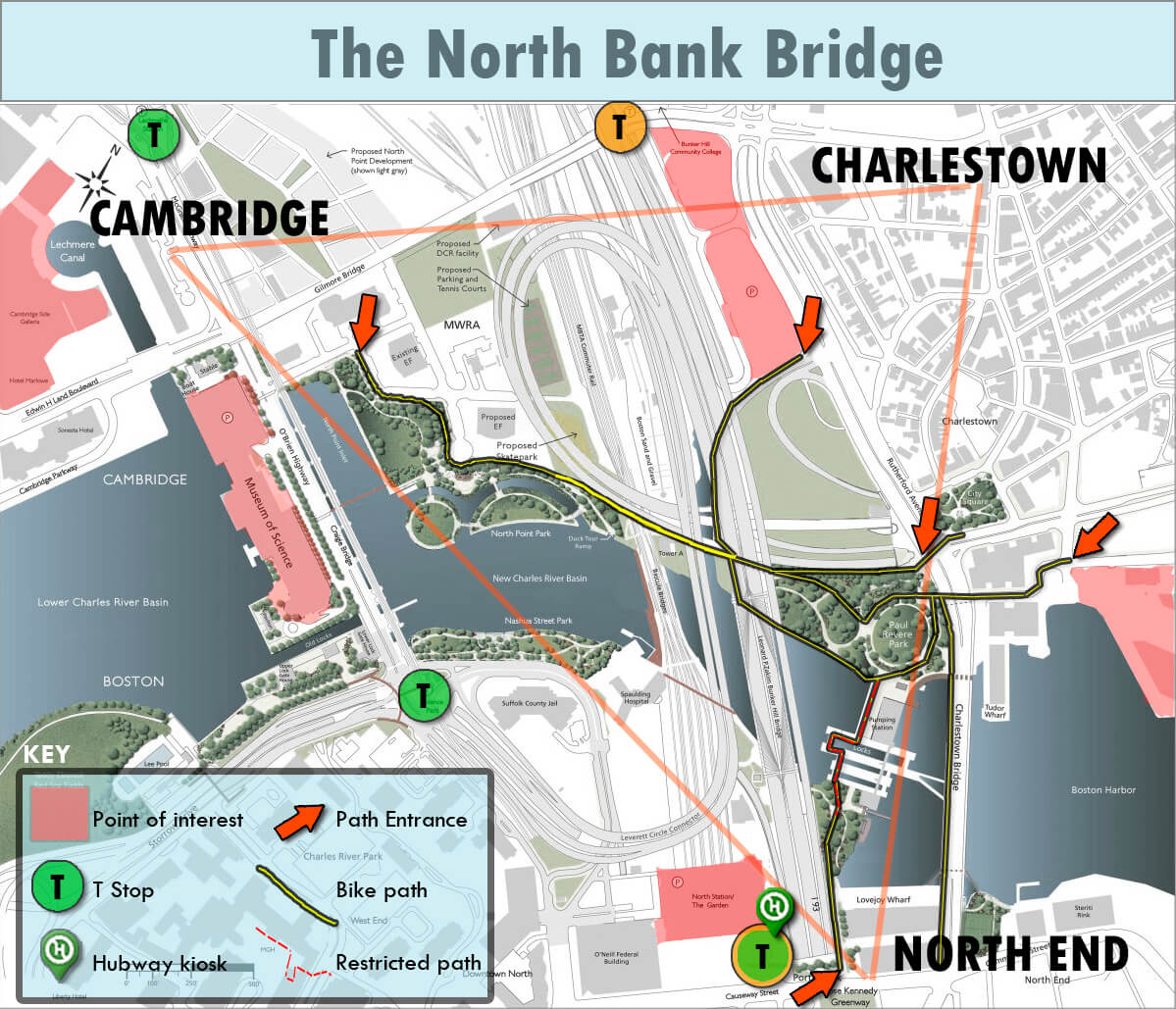 [nggallery id=16]

now if we could only get to east boston by bicycle…
Tags: north bank bridge
Read more news from News.