Posted on April 23rd, 2013 by Broadway Bicycle School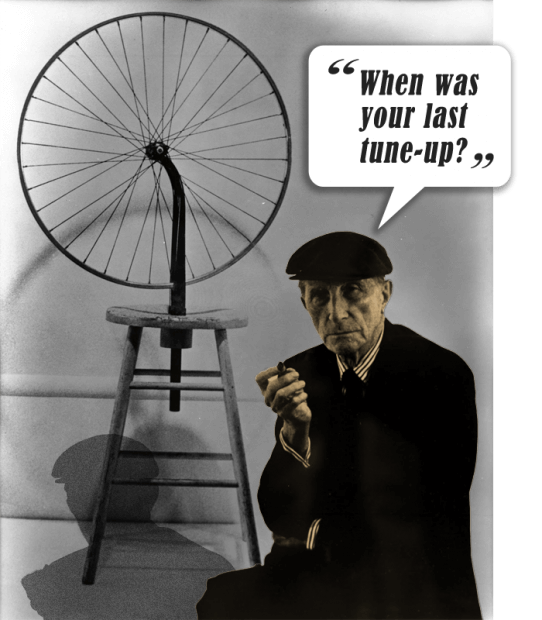 Very good question!
Though we may not be chess masters – the mechanics at Broadway definitely know bicycles.
Now more than ever, we have questions regarding fixing up your bike for spring riding. So here we will attempt to provide some answers ….
 Does my bike need a tune-up?

Answer: "Well that depends – on your bike."  Without being able to inspect your bike it is very difficult to make a proper assessment as to how much work is needed to return it to tip top shape. We do free estimates all day long. Just bring your bike in and one of our mechanics will be happy to look it over and walk you through any recommended repairs.

What's included in a tune-up?

Answer: At Broadway – all basic tune-ups include a full hands-on inspection and all needed adjustments of your bike. We start by making sure the pedals, seatpost and stem are greased properly. We will adjust your headset and your bottom bracket (if these are the adjustable kind). We take both wheels off and adjust the bearing systems in the hubs then make sure the wheels spin true by eliminating any wobbles. We inspect your tires and make sure they are inflated properly and in good condition. We'll do a quick cleaning of your frame and rims. Brakes are then  adjusted for optimal performance and – if you have them- we adjust your gears to smooth out and maximize your shifting. We tighten all the bolts on your cranks, racks,levers and fenders to make sure none are coming loose and lube your chain as well as any other parts that might need a little extra oil . Over all the basic tune-up* is a great maintenance tool to help your bike last longer and ride better. We then take your bike for a ride and make sure all of our adjustments perform as well as they should on the road.

*Please note -cost of  small parts  and labor to install those parts are additional.


During your estimate, the mechanic will inform you of your choices in the repairs. If your bike only needs brake work – we'll tell you.

When can I have my bike back?

Answer: Now is the spring rush for most bike shops when cyclists emerge with bike in tow eager  to enjoy the warmer days. We are busy and can usually turn your bike around within a few days; however we also take appointments! If you can only part with your bike for a day or two – we highly encourage you to come in, get an estimate then schedule an appointment when it is most convenient to have the work done! Easy!

What are the most common parts that are regularly replaced on bicycles?

Answer: Much like other machines that are used regularly – certain bike components are commonly replaced due to use. These include your brake pads, cable sets, chain and gear cluster.

Brake pads wear out because that is what they do best. Their main function is to provide stopping power through friction with the rim. Overtime this rubber compound will either disappear or get hard and brittle – in both instances – new brake pads are recommended.

Cablesets are the wires and plastic housing that connect your brake and shift levers to the brake body and derailleur. Overtime water and debris can lodge inside these tubes causing rust, corrosion and inhibition of cable movement. This causes your brakes and derailleurs to not respond as they should.  Unfortunately this is a very common result of leaving your bike exposed to the elements. If you leave your bike parked outside – try to find an overhang or some protective cover to prevent unnecessary exposure  – we sell vinyl covers designed specifically for this purpose!

Your chain and gear cluster tend to wear together. That makes sense when you think about it – because the teeth of the cogs are specifically machined to fit precisely between the pins in your chain. As the chain travels through its path – slowly the metal wears away between these pins causing your chain to loosen and misbehave. Do you ever experience slipping when you are pedaling hard? Chances are your chain is getting worn and may need to be replaced. This is a common repair, especially for daily commuters.

Fortunately – the most common repairs often aren't hugely expensive – it's when you let your bike go and neglect preventative maintenance when bigger issues may surface. So keep riding but show your bike the care it needs with yearly tune-ups!
Tags: services
Read more news from News.