Light & Motion Vis 180 Micro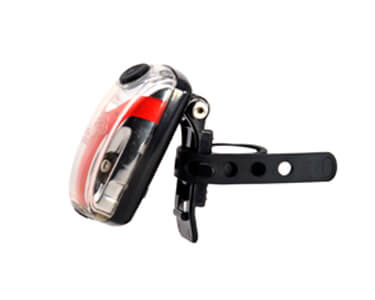 Rechargeable Tail Light with an astonishing 25 lumens with high visibility from both side and rear.
The Taillight that looks to its Left and its Right. Keep your mind focused on the day ahead, while your VIS® 180 Micro has your back and your side - the first taillight to offer a full 180 degrees of Commuter Safety.
The Vis line uses a single cell Li-ion cell carefully packaged inside the light. These products feature a new battery charge indicator that reliably reports the charge status so you know when to re-fuel.
Stay Visible Press once to turn the light on. You can then cycle through Pulse High, Pulse Low, Steady On, Pace line (eliminates the Top Pulsing light). To turn off, Press and Hold for 2 seconds.
Run Time (hours on a single charge):
High Pulse- 6:00
Low Pulse- 12:00
High - 4:00
Paceline- 20:00