Green Guru Dutchy Pannier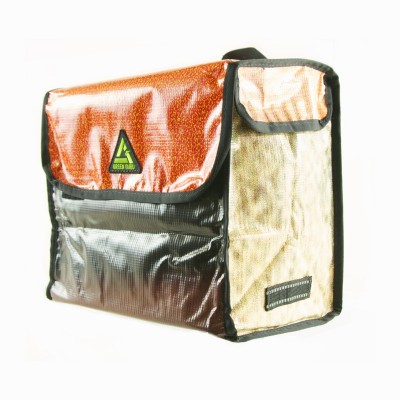 The Billboard Dutchy Pannier
The Green Guru Billboard Dutchy Pannier is an easy access "trunk" for your bicycle. Modeled from the proven Dutch-style bike panniers, these bags will turn your bike into a veritable station wagon for hauling your gear. This pannier incorporates a universal mount system that easily fits any rack. When you reach your destination, the bags can be removed and used as totes to transport your gear in style while on foot. Measures 13 x 12 x 7 in. with a 24 L/ 1092 cu in. capacity. Various pleasing banner palettes to choose from.
Materials: Recycled / Upcycled Bike Tubes, 100% Recycled PETE Fabric from Post Consumer Beverage Bottles, Nylon and Metal Hardware, Coated Steel Hardware
Features:
Weather resistant gussets
Reflective light loop
Large main compartment
Adjustable to fit most racks
Secure Velcro closure
Made in the USA - Boulder, Colorado to be more precise!